1
« on: Mar 21, 2021, 02:04 PM »
Hello
I thought about adding different convoy paths for different mission so they spawn somewhere else.
so i used magic key ctrl+ c/v changed names added new markers on map added it into setupMissionArrays.sqf
added those paths into _locationsArray in mission and changed in _setupObjects the file for convoys where they start.
result? its shouting that it doesnt know _starts/_startDirs
I look for all file where is used "LandConvoyPaths" from previous mission and carefully copied it and changed but it didnt want to wrok.... where could be the problem if everything is copied exactly like original only names are changed?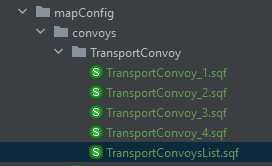 mission is running okay if paths are LandConvoyPaths + previous _missionLocation file